"Ye vs Tay" 7-inch skratch record by Mike C and AkikoLUV
$

30.00

USD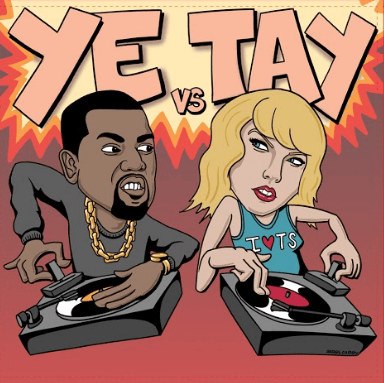 NOW AVAILABLE
CLICK HERE to preview Kanye's side
CLICK HERE to preview Taylor's side
From the strange minds that bring you the "Skratch Snobs" video series: it's "Ye vs Tay," the newest 7-inch record for all you A-list scratch celebrities!
Both sides are chock-full of dope skratch samples; one side is composed of sounds from 'Ye songs, while the other is made of sounds from Tay songs. If these two pop titans had to settle their beef once and for all with a portable skratch battle, this would be the record they both used!
All silliness aside, this is a top-quality skratch record. Mike C and AkikoLUV have worked hard to bring you only the kind of samples that sound and feel good to cut with. Special care was also taken to arrange some phrases and sentences that "flow" seamlessly into themselves all the way around the record, for endless syllable combinations. Twelve skipless sections in all... plus two little Easter eggs if you can find them. (Even celebs have to diss each other in a skratch battle, right?)
Graphics by LiHai Art. Audio mastered by Flip Flop. Enjoy!
*** USA orders only. Please contact us for international shipping.