"Kings & Queens" 7-inch skratch record by Mike C and Don Paco
$

100.00

USD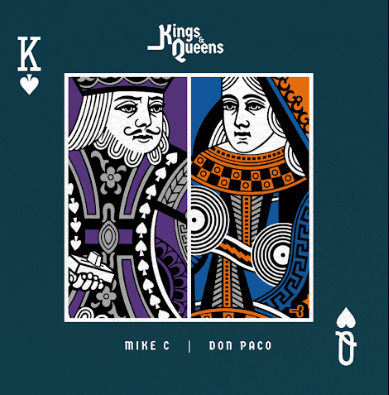 CLICK HERE to preview Side K by Mike C
CLICK HERE to preview Side Q by Don Paco


Truth be told, it's easy to make any old skratch record. But serious cutters can tell the difference between an okay record and a really good one; so we (Mike C and Don Paco) put a ton of thought and effort into creating a record that we would want to use for ourselves. We hope you'll enjoy it too!
First, the format: No ultrapitch on this one. We like using ultrapitch, but we recognize that not everyone has that feature on their setups; and we intentionally wanted to make a record that everyone could use and enjoy.
Also: no beats, drums, tones, or disses. Just 14 skip-resistant sections of straight-up scratch samples and phrases that you'll enjoy cutting with, period. One side curated by Mike C, the other by Don Paco.
Mike C's side is the distillation of years spent digging for and collecting dope scratch samples and phrases, from anywhere EXCEPT from existing skratch records. (The last thing we wanted to do was repackage a bunch of sounds from Hee Haw Brayks, and then turn around and sell you that as if it were something new.) So Mike C's side consists entirely of sounds and phrases that have never appeared on any other scratch record before. (Except that there's an ahhh. Gotta have an ahhh on there.) We also sonically altered the attack (beginning) on some of the samples, to give them that special crispness needed in a good skratch sound.
Don Paco's side is made up of sounds specifically selected by the demented skratch monster himself. DP insisted on his side including a couple of the standard sounds that hardcore cutters require; and then in addition, he gives you some dope phrases and introduces strange, exotic noises from video games and who knows where else.
Anyway, we hope you dig it. The project was mastered for optimal audio quality by A1, with artwork by Zalamedia. And the title? Both Mike C and Don Paco now stay in Los Angeles; but Mike is originally from Sacramento (home of the Kings), while Don Paco hails from Queens, New York. Notice the Kings and Knicks colors?
Lastly, this project is dedicated to all you Kings and Queens of skratching all over the world. Enjoy!
*** USA orders only. Please contact us for international shipping.